April 18th – Letter "O "

Film – Oopiri (2016)
Language – Telugu
Genre – Comedy Drama
Written by – Vamsi Paidipally, Hari, Solomon, Abburi Ravi, Raja Murugan
Director – Vamsi Paidipally
Producer – Prasad V Potluri
Music Director – Gopi Sunder
Cast – Akkineni Nagarjuna, Karthi, Tamannaah, Prakash Raj.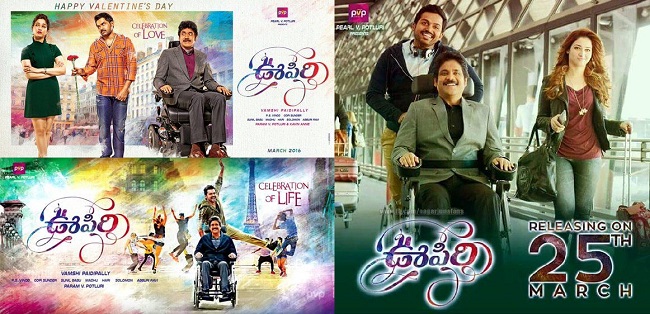 Story – The story is about a millionaire called Vikramadhitya (Akkineni Nagarjuna) who is paralysed due to an accident and Seenu (Karthi) who is a paroled convict. Vikram who is leading a miserable life from five years as he is quadriplegic (a person affected by paralysis of all four limbs), stays with his secretary Keerthi (Tamannaah), his cook Lakshmi and few servants. Vikram is looking for a caretaker, while interviewing candidates for the caretaker position they come across Seenu. Vikram hires Seenu against the will of his best friend Prasad (Prakash Raj), stating hi he is the right person for that position as Seenu was the only one who did not have pity towards Vikram.
As the days goes by the bond between Vikram and Seenu becomes strong. Seenu understands Vikrams feelings without Vikarm having to say a word. Seenu brings back smile, happiness, energy, thrill, love into Vikram's life. And at the same time when Seenu is having problems with his family, Vikram solves his problems and turns his sorrow into happiness. Both of them learn from each other.
How Vikram got paralysed? What was Vikram's past? What was hindering Vikram? Why was Seenu a paroled convict? Did Seenu continue working as a caretaker of Vikram? What happened to Vikram?  Did Seenu's family accept him? What happened to Seenu? To know the answer to all the other questions you will have to watch the movie.
My Say on the Film – A marvellous movie. A movie that teaches you about humanity, relationships, love, care, friendship, about encouraging people, understanding, bring the best out of one person, accepting, not being judgemental and many more.
Closing Remarks – Hats off to the whole team. A wonderful story.